Buying a Home in Macomb and Oakland County, MI
First or Fifth We're Here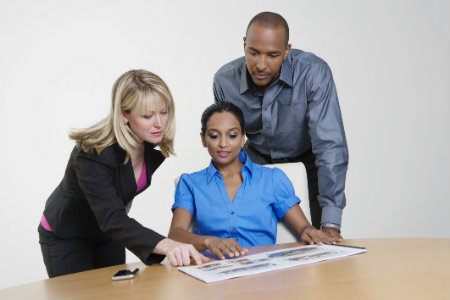 Whether this is your first or your fifth, the buying process can be daunting. And choosing the perfect place to live is a big decision. We know it takes time and perhaps dozens of viewings to get it right. At Rooms, you are free to browse and take your time without feeling pressured or rushed. And when you find the rooms that suit you, we will guide you through the steps to make them yours.
After all, this is the place you'll be making a life. And it's our mission to help you find the perfect fit.
Meeting with a Consultant
While many agents pop tart and show homes to just about anyone, we believe sitting down with our clients to discuss the process eliminates stress and problems down the road. So addressing your wants and needs along with your plans for the future helps us create a path together. It allows us to explain current market conditions, so you know going in what to expect. Navigating through the home buying process is anything, but clearly, it's why we prefer laying out a plan and a path so we can focus on the end goal.
Getting Approved
You should speak with a local mortgage specialist before starting your home buying search. They'll not only determine if you qualify for a mortgage but also what type of program best suits your needs and future financial plans. They'll also help calculate a monthly house payment range so you can adjust for taxes and or association fees.
Since the mortgage industry has changed, we highly recommend a pre-approval as opposed to a pre-qualification. This way you know what type of mortgage you qualify for, how much money you'll need, and any if everything is in line.
Before Viewing Homes
It's important you understand Michigan's agency disclosure laws before you start calling around to view homes. Otherwise, you may not have proper representation. Find out what you should know about real estate agents.
Next, read through our real estate forms section where you can preview many of the documents you'll need to sign when you're ready to make an offer.
If you have just started the home buying process, visit our FAQ and Real Estate Guide page, then check out our quick search. This service allows you to search the local MLS's and view all properties for sale in Macomb County and Oakland County that we serve.
Once you're ready to start looking at homes, register on the Search, Save, and Alert program. Here you'll receive your very own Dashboard, where you can store searches, save your favorite homes, and even communicate with us directly, using the personal messaging system.
On our website, you'll have the ability to search via city, zip code, MLS number, and much more. Then each day the program will automatically notify you of the homes for sale that has met your specified criteria.
---
Let Us Help You Find Your Dream Home
Finding and purchasing a home that will meet your needs is a significant and often stressful time. Our goal is to make this transition as smooth as possible. We are experts in the area, and once we learn what it is that you're looking for, finding your dream home is simple.
Before you start looking for a home you should ask yourself a few questions:
Where do you want to live? Are there particular neighborhoods or communities that you like?
What kind of house would you like (need)? Are you looking for a particular style? How many bedrooms and bathrooms do you want?
Is a home office a necessity? Do you need a bonus room or flex room?
Do you entertain often? Is a home suitable for entertaining something you're looking for?
Do you want a yard, pool, gated, or guard gated community?
Have you determined your price range or consulted a lender to determine the best price range?
Searching for your dream home can be a time-consuming experience. Working with our professional team will make the process much more efficient!
---
Search by area, bedroom, bath, size, schools, style, and more.
---