Tips & Tricks Tuesday - Organizing Your Day (Part 3)
Posted by Cindy Knight on Tuesday, July 31, 2018 at 5:05 PM
By Cindy Knight / July 31, 2018
Comment
The ready station, organizing, Tips & Tricks Tuesday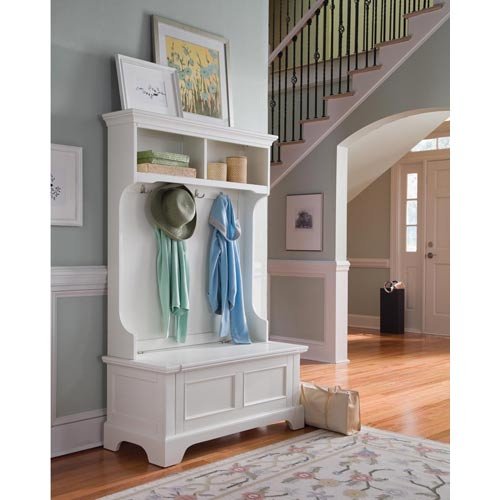 So last week we talked about responsibility charts. If you missed it, you can read it here. This week we will hit part 3 of our "organizing your day" series. Remember, the things we are sharing have been tested by our very own resident professional organizer and they REALLY do WORK!
So, this blog is for everyone that leaves the house at any time of day. Regardless if you work, go to school, are a stay-at-home parent, work from the house, etc.…. the ready station is a super easy concept that will help you not to forget something you needed for the day! Have you ever run out of the house so quickly, only to realize when you are halfway to work, and you forgot your work bag? Or you pile everyone in the car for a soccer game, only to realize when you get there that you forgot the team snack at home. Or…. you have all our morning routines in place from the breakfast schedule to the responsibility charts and you think you are way ahead of schedule, only to find out when you drop your kids off at school that someone forgot their gym bag! You get what we mean…. well we say to alleviate this problem, set up a "ready station." Huh? What is that? Well, a READY STATION is simple, it is an are in your home by the door that you leave that has a place for you or any family member to place their stuff the night/day before so that its more of a grab and go situation.
Ok so there are two steps to this:
1- Set up the READY STATION for each member of the household.
2- Make each member of the household accountable for their own items!! This is KEY!
First, to set up a ready station, you only need a little counter, cabinet, or floor space. You can even use wall space with hooks. Below is a picture that Andrea (our resident organizing guru) took when she was living in a rental home before they moved into her home. There was no way to change the layout of the rental and the back door was the door that was used to go in and out. Without being able to change the space or add a bench or something to space (it was too tight of a space,) there was a struggle as to how to pull off a READY STATION, but knowing what she knows about organizing, it is a MUST! So…the next best thing came to mind – Command® Hooks. They are the best product, you can put them up and move them if the place you put it at isn't conducive for what you are trying to accomplish – WITHOUT damaging the walls!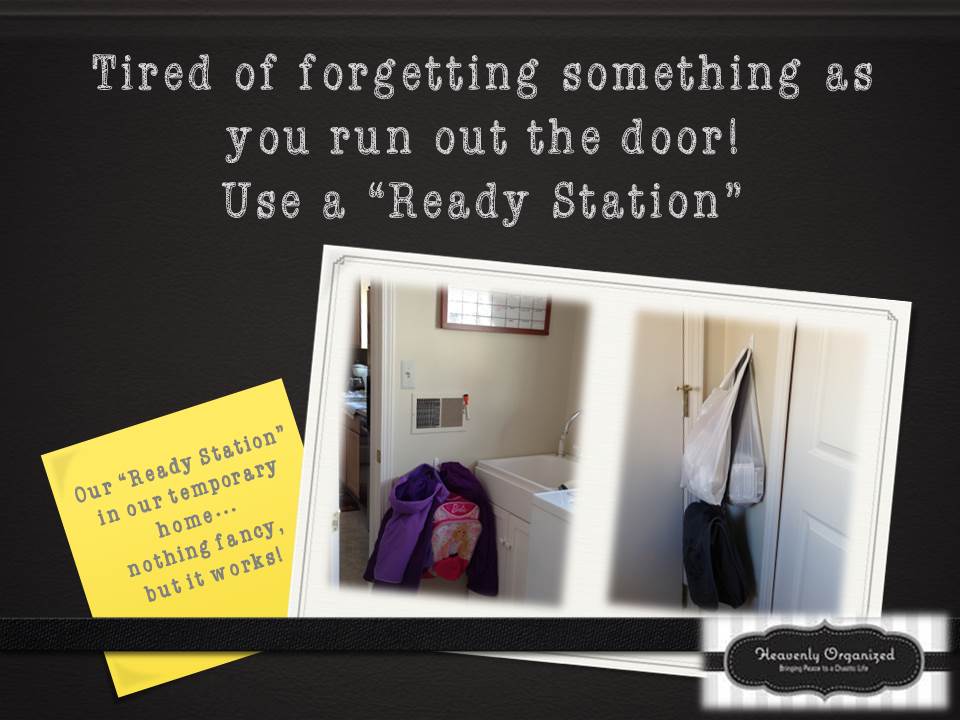 If you do have space for a piece of furniture, we recommend something such as the item pictured below, depending on how much available floor space you have. Or, you can choose something like the title pic that is completely fabulous if you have space!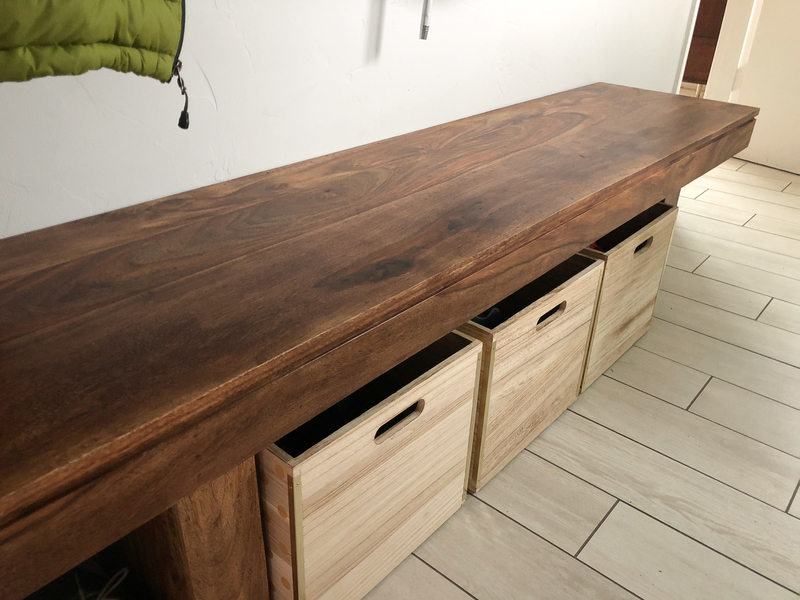 Once you set it up, the next step is making sure everyone in the house is using them! The night/day before each person should be putting in that READY STATION everything that they need for the next day. This means anything from books, homework, work computer, coat, change of shoes, lunch money, etc. The exception to this is perishable food, in that case, a simple sticky note reminder works wonders! Then in the morning after everyone has done all their tasks on their responsibility chart, it will be quick and easy to grab everything they need and get out the door! The most important aspect of this second step is that THEY are held accountable for their own READY STATION. If you get to your destination and notice someone forgot something, DO NOT go back and get it. If you do, it will only teach that person that when they forget something, it will be rectified immediately, and they will expect that behavior all the time!
Need help making a ready station? Ask us questions via social media and we will respond. Try it out and let us know your progress and how the process worked for your household by commenting below or on social media!
Guest Post Andrea