T & T Tuesday – Spruce Up Your Home WITHOUT a BIG Investment!
Posted by Cindy Knight on Tuesday, July 10, 2018 at 8:42 PM
By Cindy Knight / July 10, 2018
Comment
Tips & Tricks Tuesday – Spruce Up Your Home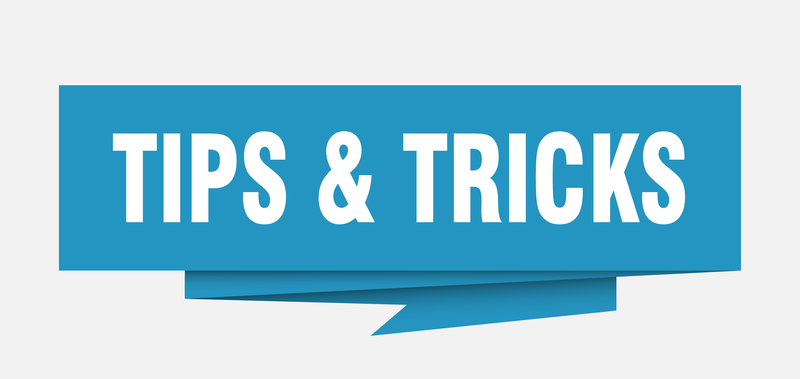 WITHOUT a BIG Investment!
Recently, I read an article titled "Cheap House Improvements Under $500 That Will Increase the Value." The article gave some great tips on what you could do around your house to increase value but not spend all that money. If you are planning to sell or if you don't want to invest any more money in your current real estate, there are some great tips for you in this article. As a professional organizer, I have some cheap home improvements that can be done, my first was mentioned in this article, but the rest I have experienced when working with clients.
1. Declutter – this is the one that was mentioned in the article as well. There are many ways that you can declutter your house. I had mentioned a few in a couple of my T & T Tuesday posts weeks back if you didn't catch them, read those here. The key is to go room by room and get rid of those things that are visually unappealing. It could be junk, papers, magazines, etc. or it could be the actual decorations. You may have too many Knick-knacks out. Look up and down, don't look just at eye level. I cannot tell you how many clients I have gone into their homes and especially their kitchens, how much stuff has been collected on top of their cabinets. What a difference it makes! I used to have artificial ivy, wood wine boxes, pictures, etc on top of my cabinets and I decided one day that it all had to go! After I saw how much dust was accumulated on there, I knew I made the right choice! Now not only does it look a lot simpler but more visually appealing, but it is sooooo much easier to clean! So, take it room by room, you will be surprised how much change decluttering can make!
2. Move furniture – I don't mean just in each individual room, I am talking about moving furniture from one room to another. Do you have a den that you have always used as just that….a den? Well, consider switching things around and make it into a comfy reading nook. If that sounds like too much of a daunting task, then try moving furniture around within the room and maybe moving just one piece or two to another room or out of the house altogether. Remember, simplicity can be much more appealing than a room chocked full of furniture.
3. Paint – this is the easiest and most cost-effective way to change any home! You can do it at home and if you take advantage of local paint sales, you can do this at a low cost! You can use an accent wall. Below is a picture of an accent wall that I did in my great room. I didn't paint the rest of the room, but I was able to pull in a completely different color by painting just this small portion of the wall! (I even moved furniture from around the house to completely change the look of this room. It used to be burgundy with a more traditional look.) It is just enough of a pop of color without it being too overwhelming.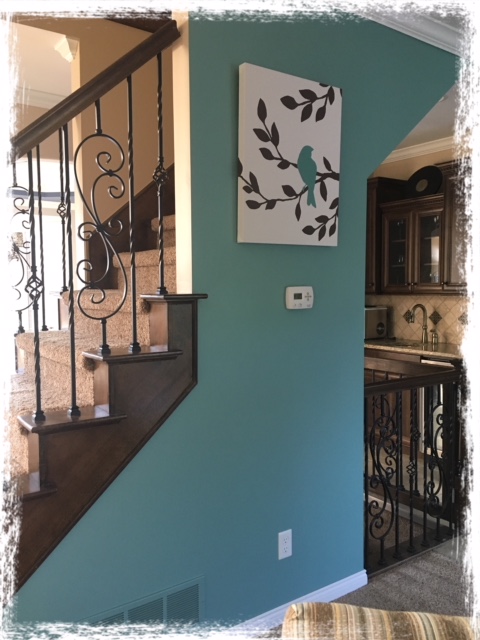 4. Architectural Accent – ok, so what do I mean by this? Well…I mean slapping some trim pieces directly on some drywall and painting it a semi-gloss finish to mimic wainscoting. (The picture below shows how I did this in my house. It adds dimension at a low cost!) Or…adding beadboard to the lower ½ of a room to really make it pop. It is the same concept of the wainscoting, but with single sheets instead of all those cuts. You can also just do one wall in a beadboard, shiplap, or other rustic wood finish. This will give any room a different look for just a little bit of money. You can even add a tile backsplash to any kitchen or bath for that extra elegant touch. There are plenty of peel-and-stick types that are easy for any beginner to tackle!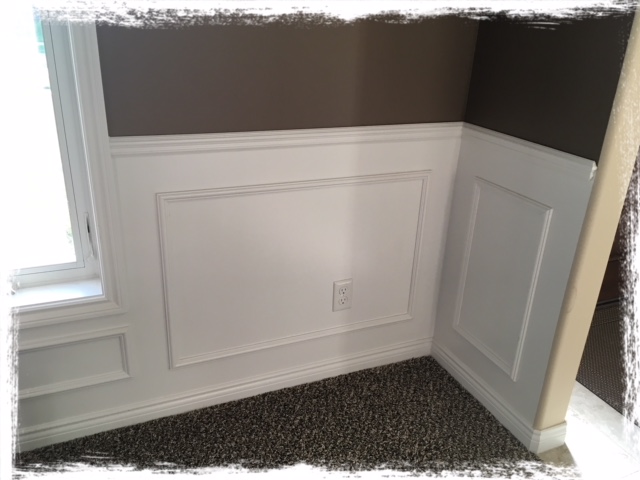 These are just a few ideas that I have used to "improve" client's homes, without the huge expense of a renovation! Would you like to renovate your home? Which of these tips would you like to try? Let us know. You can send us your pictures and I can offer some free advice on how to spruce up your space!
Guest Post Andrea