T & T Tuesday ~ Organizing Your Day (Part 1)
Posted by Cindy Knight on Tuesday, July 17, 2018 at 7:24 PM
By Cindy Knight / July 17, 2018
Comment
Tips & Tricks Tuesday - Organizing Your Day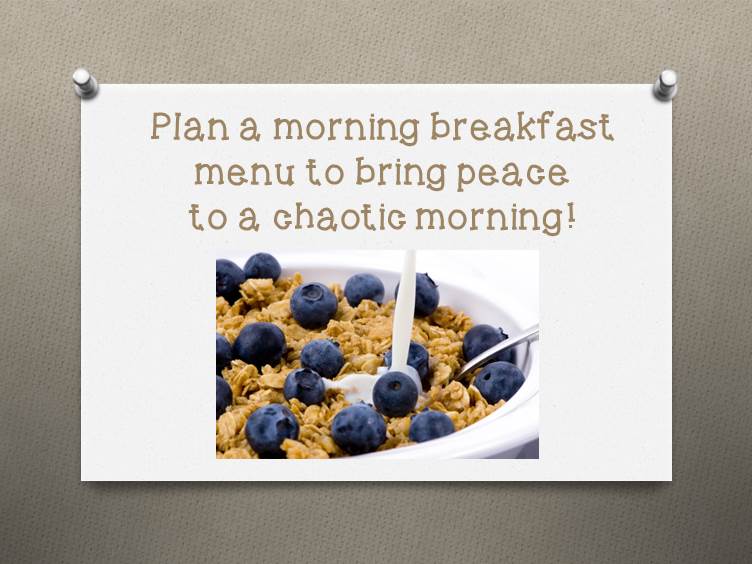 Part 1 - Breakfast Schedule
It is almost that time of year when the kiddos should start going to bed at their normal hour so that they can be ready for school in the morning. Yes, we said it…. school is almost back in session! Do not stop reading; we know that you may not want to hear that, but the reality of it is that it is just around the corner. We plan to equip you with the right tools to make this the best school year yet! No really, the things we are about to share have been tested by our very own resident professional organizer, and they do WORK!
Whether you have your own children, grandchildren, nieces, nephews, neighbors, etc. you know that having any child as a part of your day can be a challenge. We are going to help you get rid of those challenges so that your school day mornings and evenings can run smoothly, without the chaos! We will be breaking up this topic into 3 parts over the next 3 weeks so that when September rolls around, you are armed and ready to go! If you don't have school-aged children, there may be some tips in here that you still use!
So, let's get to it… you are scrambling around in the morning to make lunches, get belongings together, clothes on, teeth brushed, etc., etc., etc.…. then you realize that before you can run out the door, everyone needs to eat…because, as we know, breakfast is the most important meal of the day. After you have done all the morning tasks, the last thing you want to do is figure out what everyone wants to eat! Well…we propose that you don't "figure it out!" Yep, we said it, don't figure out breakfast…. of course, everyone still needs to eat, but the hectic morning isn't the time to figure it out. Instead, come up with a morning breakfast schedule. Much like the blog we did on meal planning, this is something that you can do in advance to take the chaos out of the morning! Andrea, our resident organizer, has used this simple fix not only with her clients but in her own home! It is very simple to do, and it has proven to work!! Sit down together with those in your household and come up with a weekly schedule, kind of like this one: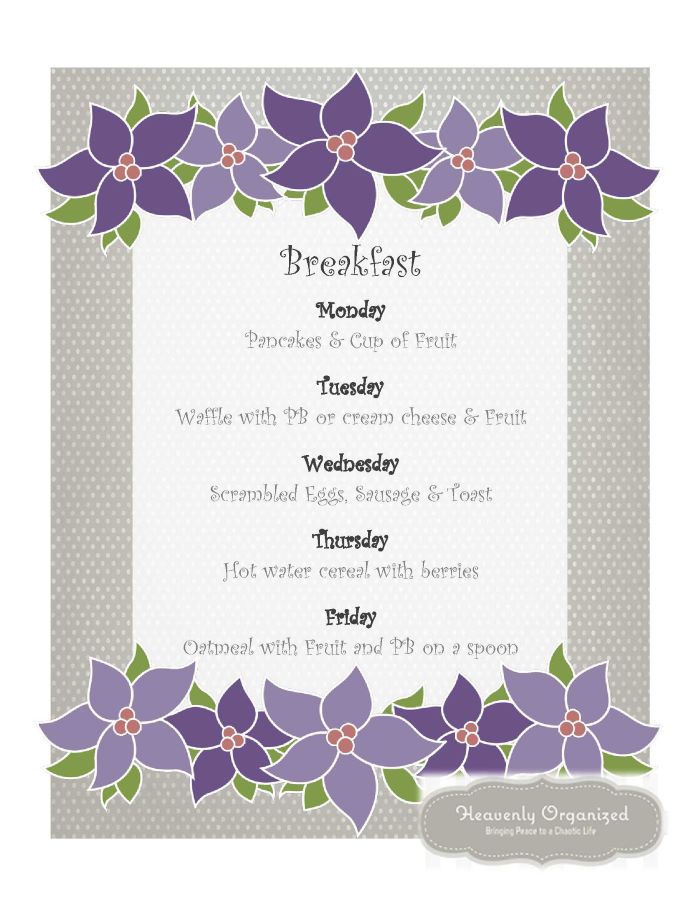 It doesn't have to be anything fancy or gourmet, but it should be down on paper, a dry erase board, or a weekly calendar. This way, everyone in the household knows what to expect. The one who is the first one done getting ready can be the one to get the "scheduled" breakfast going. Or, better yet, you can assign a day to a different member in the household for getting the "scheduled" breakfast ready.
Note: If you do have school-aged children, make sure you make them a part of the breakfast planning process. This concept will do two things:
It will reduce the guesswork and chaos of the morning routine. You wake up and know that it is Monday, so you are going to have "x", then on Tuesday you can wake up and know you are going to have "y", and so on.
It will help those in the household to try new things in their meal because that is the key: just like meal planning with dinner, there is only one option for breakfast. We do not have short-order cooks in our homes, nor are our homes the local breakfast hot spot, so why should we train those in the household to think so!
We suggest trying this a week or two before school is back in session so that your household can be in the groove by Day 1. Try it out and let us know your progress and how the process worked for your household by commenting below or on social media!
Do you have any breakfast suggestions for our readers? Share them with us today! We will be sharing Mason Jar Breakfast prep in the coming weeks, and maybe we will include your breakfast suggestion in one of our T & T Tuesday posts!
Guest Post Andrea