Neighborhood Watch - St. Clair Riverfest
Posted by Cindy Knight on Wednesday, July 25, 2018 at 5:47 PM
By Cindy Knight / July 25, 2018
Comment
St. Clair Riverfest, Boat Races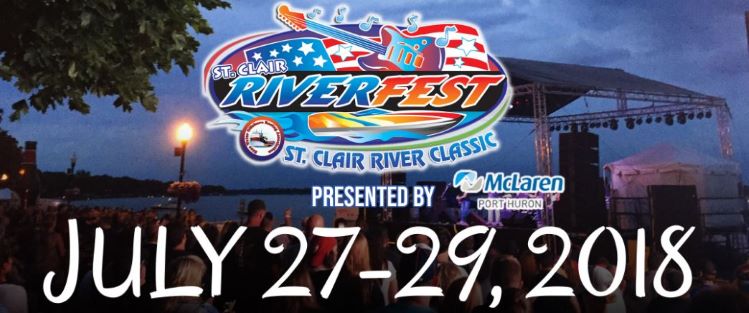 This weekend you can enjoy another local event! The 13th Annual St. Clair Riverfest is July 27-29, 2017! It "takes place on the banks of the St. Clair River, this event is one you don't want to miss. Enjoy a weekend filled with Boat Races, Live Local and National Music, Great Food, Drinks, Fun Novelty Vendors, and much more! St. Clair Riverfest attracts all ages with a wide variety of activities. FREE concerts on Friday & Saturday, great food, vendors, and of course the boat races ending the festival on Sunday! There is NO ADMISSION CHARGE to the event!" All of the information regarding this event was taken directly from the Riverfest website that can be found on FUNFEST EVENTS.
---
Festival Hours: FRIDAY – 4:00pm – Midnight; SATURDAY – Noon-Midnight; SUNDAY – 10:00am – 6:00pm
Event Rules: NO outside food, beverages, coolers, pets, bikes, scooters, rollerblades, skateboards, video cameras, or weapons allowed on festival grounds. You may bring blankets, umbrellas, lawn chairs, infant carriers, and strollers. Absolutely NO solicitation or distribution of materials without a permit. Camera Policy - simple point-and-shoot cameras are allowed. Music Stages – NO Professional or High-End cameras are allowed in the Music Performance Areas. This includes cameras with interchangeable lenses, or zoom lenses exceeding 4x. Festival staff has the right to make a determination of cameras on site. NO VIDEO CAMERAS OF ANY KIND ARE ALLOWED. Simple Point and Shoot Cameras are allowed EVERYWHERE on the grounds.
Music Schedule
Friday: Brent Mireau Band 5:30-6:15pm; The Gobies 7:00-7:45pm; Ezra 8:30-9:15pm; Great White 10:15-11:30pm
Saturday: Broken 5:30-6:15pm; Los Gringos 7:00-7:45pm; One 8:30-9:15pm; Sponge 10:15-11:30pm
VIP Tickets are available here. VIP Tickets Include: Up-Close Seating, Private Bar and Restroom
Boat Race Schedule
The schedule is very detailed and there is too much information to list. You can find a detailed schedule and mapping here.
Other Events
There will be a wide variety of food and beverage vendors. There is also an awesome "Inflatable Zone" with an Amazon Zipline, Rockwall & Bungee Bouncing, Meltdown aka WipeOut, Toxic Drop Obstacle Course, Hamster Ball Race, Double Lane Slide, Turbo Rush Obstacle Course, Combination Unit, and Bounce House. Prices range from $15 for unlimited bounces on select units, to $5/ticket or 5 tickets for $15 for the units that are tickets only.
For more information or if you have questions regarding the event, contact:Phone: (586) 493-4344 General Email -[email protected]
Are you planning on attending the St. Clair Riverfest? If you go make sure you tag us or use #neighborhoodwatch so that we can see how much fun our viewers are having!
Cindy Knight