Motivational Monday: Creamy Steak Fettuccine
Posted by Cindy Knight on Monday, June 25, 2018 at 11:05 PM
By Cindy Knight / June 25, 2018
Comment
Creamy Steak Fettuccine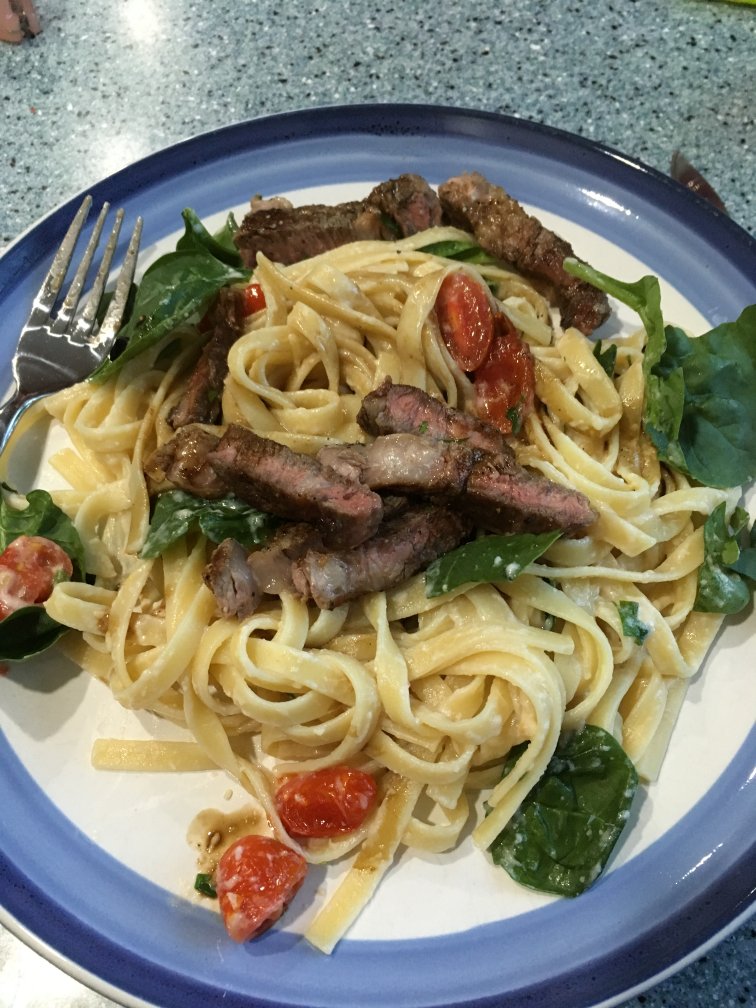 Another yummy, yummy recipe TESTED...AND....LOVED! This recipe was courtesy of Delish, and it is going to be a DEFINITE regular in my house! I was asked by a special someone to come over for dinner, and the menu was a "new" recipe that they were trying out. We all know how it is when you haven't tasted the dish before or even tried making the dish before; you never know what to expect. This recipe was relatively simple to make (or so I was told since I just got to eat it) and based on the ingredients; it seems simple enough for even those just starting in their "home" cooking lifestyle. It really is a restaurant-quality recipe.
I love making pasta dishes, and this one combined some of my favs in one dish. I was skeptical about the balsamic glaze, but it definitely MAKES the dish! The combination of flavors is incredible! I could totally see myself eating this the next day for lunch, even without the steak. I am sure you can make variations regarding the "meat" aspect, but I felt that the sirloin made the recipe that much better. It was light and fresh, and the sauce is not a "heavy" alfredo type that you would think given the name. It is just enough to coat the fettuccine, spinach, and tomatoes. Here is the recipe directly from the Delish website:
Creamy Steak Fettuccine
Makes four servings
Prep Time: 10 min
Total Time: 30 mins (according to delish, but we say more like 40 min)
Ingredients:
12 oz. fettuccine
Kosher salt
1 lb. sirloin steak
Freshly ground black pepper
2 tbsp. butter
2 garlic cloves, minced
2 tbsp. all-purpose flour
2 c. milk
1 tbsp. freshly chopped parsley
1/2 c. freshly grated parmesan
1 1/2 c. halved cherry tomatoes
2 c. baby spinach
Balsamic glaze, for drizzling
Directions
In a large pot of salted boiling water, cook pasta according to package directions until al dente. Drain and set aside.
Season steak generously with salt and pepper. In a large skillet over medium-high heat, cook steak until your desired doneness, 3 minutes per side for medium-rare. Transfer to a plate to let rest, 10 minutes, then thinly slice.
Meanwhile, make alfredo sauce: Add butter to the skillet and let melt, then add garlic and cook until fragrant, 1 minute. Whisk in flour and cook 1 minute more, then add milk and simmer until thickened, 5 minutes then add parsley and parmesan. Add tomatoes and cook down 2 minutes.
Add cooked pasta to the sauce and toss until coated, then add spinach and toss until wilted.
Top with sliced steak and drizzle with balsamic glaze.
So....give it a try and let us know how you liked it! Post your pic on social media of your dish. And YES...the image above was my actual dish! Happy cooking!
Guest Post Andrea